Welcome to PinPoint Evangelism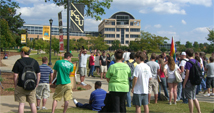 Are you a Christian? If so, what are YOU doing to reach the lost? YOU DO understand that the Lord Jesus Christ has given us a Great Commission, right? Are YOU obeying Christ's commands to reach the lost? Jesus said that YOU show YOUR love for Him by obeying Him (John 14:15). Do YOU really believe in an eternal place of torment called Hell? Do YOU really believe that YOUR non-Christian family members, YOUR friends, YOUR co-workers and complete strangers will go there? What are YOU doing about it? If YOU love them, YOU WILL say something!
Open Air Preaching at the 2015 World Series in New York
PinPoint Evangelism
PinPoint Evangelism is an evangelistic ministry that God has granted to Kerrigan Skelly and his family. They consider it an honor and a privilege to serve the Body of Christ in such a way and to be blessed by God with this calling. PinPoint Evangelism has two main purposes given to it by God:
1) Reaching Out To The Lost- PinPoint Evangelism takes the Great Commission as a command, not as a suggestion. We regularly take groups of people out into the "highways and by-ways" to reach out to the lost. We take the Gospel where it...